Panthéon
The Panthéon of Kühn Keramik
by our correspondent Arthur Baron von Aktaion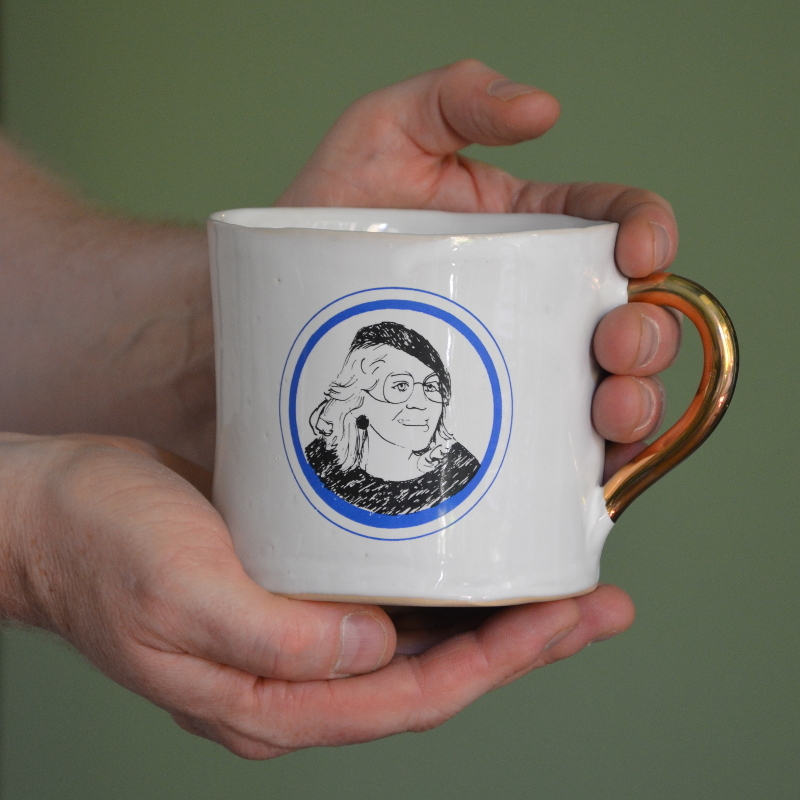 Kühn's potrait cups are a ceramic wall of fame which brings together illustrious figures of European cultural history: Twiggy, Heiner Müller, Anna of Austria, Albert Einstein, Johann Wolfgang von Goethe, Vivienne Westwood, Louis XIV, David Bowie, Queen Mum, Jean Paul Gaultier, Louis de Funès, Queen Elizabeth II., Jaques Tati, Johann Sebastian Bach, Nina Hagen, Ludwig van Beethoven, Björk, Ludwig II, Elvis, and many more.
The portrait cups from our »Alice« series draw on a tradition from the late 18th Century, when the white spaces of cups were discovered as places to worship emperors and kings, famous generals and renowned poets, thinkers and composers. What is special about a cup with a portrait : is that it is more than a mere container to drink from, it is a symbol connecting its users to the characteristics of the person portrayed. Anyone who has their morning coffee eye to eye with Louis XIV will have a royally delightful day. And if they behold David Bowie's countenance when having their second cup, they will be a hero – for this one day.
To become part of such a hall of fame has never been easy. In France, only the »président de la République française« decides who is admitted to the Paris »Panthéon«. The inclusion of a great French personality in the »Panthéon« is a special formalised procedure called »panthéonisation«.
This is similar in Kühn's pantheon. Bernhard Kühn himself decides whether someone is admitted, but at his own discretion and without consulting an assembly. The act of »panthéonisation« is an artistic one: Every portrait to be included in the wall of fame is drawn single-handedly by Kühn before it is placed onto a cup.
Product Information
Each Alice Portrait Cup is made by hand and therefore a unique piece. The colour might vary from the photo. The cup is not suitable for dishwasher and microwace.
Alice medium coffee cup 'glam'
Art.no.: 1022x.wegg.name
Dimension: height 8 cm, diameter 8,5 cm
Material: stoneware, the glaze of the handle is real gold